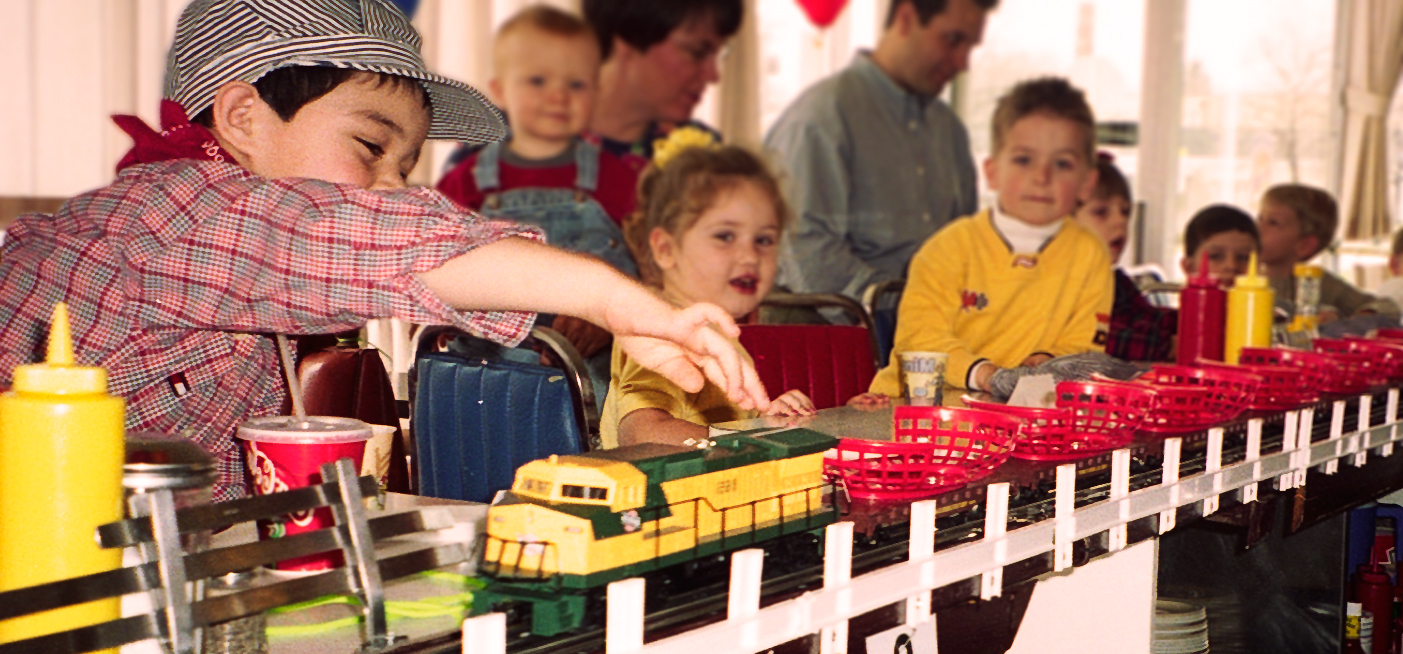 600 Lee St., Des Plaines, IL
847-391-9815
Monday
10:30am – 3pm
Tuesday
Closed
Wednesday
Closed
Thursday
10:30am – 3pm
4:30 – 8pm
Friday, Saturday
and Sunday
10:30am – 3pm
The choo choo will be closed on Monday, September 2, 2019. We apologize for any inconvenience. Please note our new hours above.
In 1951, a young entrepreneur and his wife opened a diner in Des Plaines with the hopes that they could operate a successful business that would be an entertaining experience for all ages.
They were James Ballowe and his wife Marilyn, and the diner was the Choo-Choo Restaurant. As James Ballowe once said, "Trains go fast, and that's how we wanted our customers to be served." The diner quickly became a source of popularity among adults and children alike.
The idea for the Choo-Choo style of restaurant was conceived by younger brother Roy Ballowe, while a soldier in the Philippines. The rations served were less than ideal, and Ballowe dreamed of the kinds of food he'd like to have. After a complaint by a fellow soldier who was tired of the "gravy train," the idea began to further take shape in Roy Ballowes mind. "Gravy train," thought the young Private. "Why not serve hamburgers on a model train? Kids love both of 'em."
The opening of another hamburger joint a few blocks away by a Mr. Ray Kroc did little to dissolve the Ballowes' excitement. James Ballowe was just sure that he would be able to beat out the hamburger joint dubbed McDonald's, because of the novelty of the train. He also donned the proper attire: an engineer's cap, red bandanna around his neck, and a whistle he would blow whenever he sent the train around. And according to Marilyn, Ray Kroc didn't think his restaurant would surpass the business the Ballowes' were getting. He even paid the Ballowes' a visit and reassured them that his restaurant would be no competition. He told them, "I don't have a place for people to sit down."
James and Marilyn Ballowe owned the diner for 25 years, before James retired at age 68. Marilyn is happy to see the diner she and her husband created back in business. Says Marilyn, "I'm getting to enjoy it all over again."
And the kids love it too! Here is a review of the Choo-Choo by Siena, a third grader from Olive-Mary Stitt Elementary School in Arlington Heights sent to us by her teacher Mrs. Klimas in 2011.
Choo-Choo merch, only available online!
Get a free birthday meal on us!
Come to the Choo-Choo and fill out a birthday club card. We'll send you a postcard good for one free kids meal during the month of your birthday. Our gift to children, birth to ten years old.
How to join:
Fill out a birthday club card in our diner at the counter.
We'll mail it to you in time to celebrate your child's special day!
Only one coupon per visit per family (one exception, twins!) May not be used in conjunction with any other coupon.
All aboard the party train!
PARTY PACKAGES INCLUDE
For parties of 25 or more guests:
Use of the facility evenings Monday through Wednesday, Saturday & Sunday

Meals from a limited menu including: a diner favorite, fries or onion rings, choice of soft drink or milk shake, and for dessert, a signature Choo-Choo cupcake with a scoop of hand-dipped ice cream!

Unlimited rides on the vintage mechanical train

Ample parking behind the diner
Private party packages
The Choo-Choo private party package combines the fun of model trains with authentic '50s diner charm. We serve up the sights, sounds, and aromas of an era gone by. If you like your fries crispy, your burgers made fresh, and your malts blended with real milk and ice cream, then you'll love your Choo-Choo private party!
The diner seats up to 50 people, which includes eleven counter stools and four booths on the train line where you can wait in anticipation as a model train rounds the bend to deliver your party food and fun. Additional booth seating is available along the windows.
But don't pull out of the station just yet. There's more!
ACTIVITY IDEAS
Take the Metra train in and walk to the Choo-Choo from the Des Plaines Station

Bring in games such as Bingo or play 7-Up!

Bring coloring books and crayons, a simple craft, or print out our Lil' Blue coloring page (PDF)
FARES
It's your party, and you'll cry if you don't call us. Discuss your party details with us at 847-391-9815 or come on in while we're open.
CHILDREN
Hamburger

Cheeseburger

Hot Dog

Grilled Cheese
ADULTS
Hamburger

Cheeseburger

Hot Dog

Grilled Cheese

Chicken Breast Sandwich
Get your party plans on track.
CALL TODAY AND RESERVE YOUR NEXT PARTY!
847-391-9815